Different diagnoses were performed over the three surfaces:
Ice charting sampling & weekly products capability for sea-ice (performed by Lancaster University)
Monthly & quarterly products capabilities for ice sheets (performed by Finnish Meteorological Institute)
Decorrelation of mesoscale signals in space/time & polar ocean analysis for ocean. Polar ocean analysis originating from G.Dibarboure (Centre Nationale d'Etudes Spatiales – CNES)
A global sub-cycle analysis (performed by CLS)
The complementarity with Sentinel-3 was also analysed. The results were presented to the MAG members. The table below provides a summary of the results. The orbit candidates were ranked in the table as optimal (dark green), sub-optimal (light green) ; average (yellow) and not adapted (red).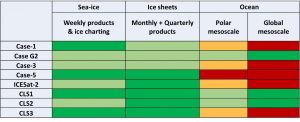 Orbit evaluation summary table: optimal (dark green), sub-optimal (light green) ; average (yellow) and not adapted (red).
When Sentinel-3 is added in the orbit analyses, all orbit candidates are optimal for ice sheet & sea ice surfaces, and thus fulfil the user requirements.
For sea-ice, best candidates are Case-1 ; Case-5 ; CLS1 & CLS3, thanks to the 7 days sub-cycle
For ice-sheets, best candidates are:

ICESat-2 if total coverage over an annual cycle is deemed to be not important
Case-5, CLS1, CLS2, CLS3 if annual coverage is important. Case-5 providing the best performances for monthly sampling. CLS1, CLS2, CLS3 very close with a better quarterly sampling

For ocean, best candidates are Case G2 ; CLS1 & CLS2 as they provide the most efficient sampling of oceanic mesoscale signals, and are adapted for a polar mesoscale multi-mission strategy. Case-5 is the worst.
Overall, the CLS1 orbit seems to be the best among all the orbit candidates when requirements for oceanography (polar mesoscale and global mesoscale) are taken into account.
Perspectives:
The studied orbits, or at least a subset of the 8 orbits, would undergo a technical feasibility analysis (station visibility, altitude conflicts etc.) as well as ESA orbit experts. Since all orbits generally fulfil the performance and application needs (except Case-5 orbit), the orbit candidate with the best suitability to these user requirements as well as the technical constraints should be selected and presented to the MAG.